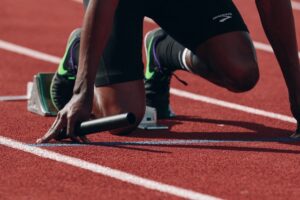 On your mark… Get set… Go!
We are once again meeting for worship in our church Sanctuary! There is a lot of work that has gone into getting us ready for this reopening, and there is much to share with you.
That being said, please take the time to read this entry in its entirety, as we need to be sure everyone understands the precautions and constraints we will be operating under for a while.
Here are the topics that will be addressed below:
COVID-19 symptoms to self-screen for before coming to church, and information regarding those who may be at higher risk of infection.

How the church has been cleaned and prepared for everyone to return.

Changes and precautions the church will be taking as we gather to worship.
Please know that there is no expectation for anyone to return to church before they feel comfortable doing so. I want everyone to have the Lord's peace when they decide to again gather together for worship at Pine Grove. Some of you are ready to come back right away, some are going to wait for a few more weeks, and others are going to wait for most health restrictions to be lifted. That is okay! God knows each of our hearts, and we want to continue to show grace to one another during this time.
We will continue to offer our service online even after returning to our modified Sunday morning worship service. That way you may continue to share time in God's Word with us whether at home or in person. Via our church website you will continue to find links to worship songs chosen for the week, children's Sunday school videos, and the Sunday message.
COVID-19 Symptoms, Self-Screening,
What you need to know about COVID-19
Anyone can have mild to severe symptoms.

Older adults and people who have severe underlying medical conditionslike heart or lung disease or diabetes seem to be at higher risk for developing more serious complications from COVID-19 illness.
Please assess yourself for symptoms, and check your own temperature prior to coming to church on Sunday.
No one should plan to attend services who is experiencing symptoms, or is known to have had any contact with anyone with a confirmed case COVID-19.

If we become aware that someone who has been in a service becomes ill, we will follow these procedures:
We will ask the person to stay home and seek medical care if needed.

We will contact local health officials.

If public health officials determine we need to, we will assist with determining who needs to be contacted for contact tracing.

Any areas we determine the confirmed COVID-19 person visited will be sanitized.
Church Cleaning & Preparation for Reopening
Prior to reopening, all carpets in the church as well as all the pews were steam cleaned; the floors in the lobby restrooms were acid washed; all fixtures, light switches, door knobs/handles/push bars, are wiped down each week, along with all commonly touched surfaces. We have also removed all items from the pews for the time being.
The CDC has issued new directives on cleaning as more information about the virus has been determined. Their literature says, "If your workplace, school, or business has been unoccupied for 7 days or more, it will only need your normal routine cleaning to reopen the area. This is because the virus that causes COVID-19 has not been shown to survive on surfaces longer than this time." (CDC Guidelines – Guidance for cleaning and disinfecting public spaces, workplaces, businesses, schools, and homes)
Additionally, the following statement has been issued regarding the potential for spread of the virus, "It may be possible to be exposed to COVID-19 by touching a surface or object that has the virus on it and then touching your mouth, nose, or eyes; however, this is not thought to be the main way the virus spreads." (The Partnership Center U.S. Department of Health & Human Services – COVID-19 recommended preventative practices and FAQ's for Faith-Based and community leaders).
As our church will only be open for a single worship service on Sunday mornings for right now, we will continue to clean as usual between meetings in preparation for gathering again. Initially, we will only be using the main floor restrooms, Lobby, and Sanctuary for our modified worship service. All upstairs and downstairs rooms will be closed, as will be the rooms in the Little House.
Changes and Precautions PGBC Will be Observing
Things to know as you join us on Sunday:
Our Worship Service will begin at 10:00 am.
We will only be offering a single worship service as we reopen. There will be no Sunday School, Children's Church, or Nursery care provided. Families will remain together in the main service.

The Main Entrance from the parking lot (grass courtyard area) will be the only open entrance to the church for the Sunday Worship service.

Greeters will be confirming that everyone entering our facility has a mask, as required, and will be reminding people to maintain at least six feet of social distance between themselves and anyone else who is not part of their family unit.

We will be singing fewer songs than normal, and will try to keep the service to one hour.

Doors will be propped open so that you do not have to touch the door handles.

Though seating is no longer marked off to create distance, please seek to ensure that you are seated at least 6 feet away from any non-family member to promote social distancing required by the county.

We will not be passing offering plates during the service. Instead, there is a new offering box located to the rear of the Sanctuary. Offering envelopes will be available next to the box on the table. Please place your offering in the box as you enter or leave the Sanctuary.

Hand sanitizer stations will be available throughout the Lobby and Sanctuary.

There will be no coffee or teaservice in the Lobby. Also, the drinking fountains will be closed.

While the Lobby restrooms will be open, we encourage you to use the restroom at home before coming to church.

There will be no handouts of any kind (Worship Bulletins, prayer sheets, children's activity pages & crayons).
All people attending services are asked to wear a mask until further notice and to maintain six feet of distance when speaking to one another. Please bring your own mask for each member of your family. No one will be permitted into the Sanctuary without a mask (if you forget yours, a disposable mask will be provided to you). Adults and children age 13 and older will need masks, even when singing (children under the age of 13 are encouraged, but not required to wear masks according to County directives).
Please do not shake hands or hug one another (even if you are both comfortable with it). We are in the position of needing to show our governing officials that we can accommodate social distancing requirements as well or better than other open facilities.
Signs will be posted around our church campus, and shall be observed by members and guests on return to campus.
Those ministering on the platform (Pastor, worship team members) will not be wearing masks while leading in song, or speaking. They will, however, resume wearing masks once they leave the platform. Santa Barbara County Health Officer Van Do-Reynoso has advised churches that if social distancing of 6 ft can be maintained in the front during worship, and there is disinfection of podium and microphones in between uses, pastors or others who are leading from the front may take a break from wearing a face covering during this time. However, face coverings must be worn during all other interactions.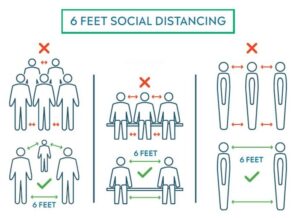 To simplify this process, the following practices shall be observed:
DO
+ Wear a mask (ages 13 and up).
+ Wash your hands before and after services.
+ Stay six feet from others.
+ Cover your coughs or sneezes.
+ Visit hand sanitizer stations frequently.
DON'T
X Shake hands.
X Hug others.
X Come to church if you are sick.
X Touch your face, nose, and mouth.
X Leave items like tissues or disposable masks in the Sanctuary.
I know all of this can be confusing (believe me, it's been weeks of meetings and reading protocols & guidelines to get this far). But, God is the one who will continue to lead us through the challenges of this time in the life of the Church.
We are all looking forward to things getting back to normal, and they will. It's just that we'll be taking careful steps as we go. As things continue to change and improve in our community, we will expand the ministries the church is offering.
Thank you for your patience, your prayers, and your participation in this unusual time of ministry.